Indie Andaluz – 25 March 2018
Written by Gary Beaumont on March 24, 2018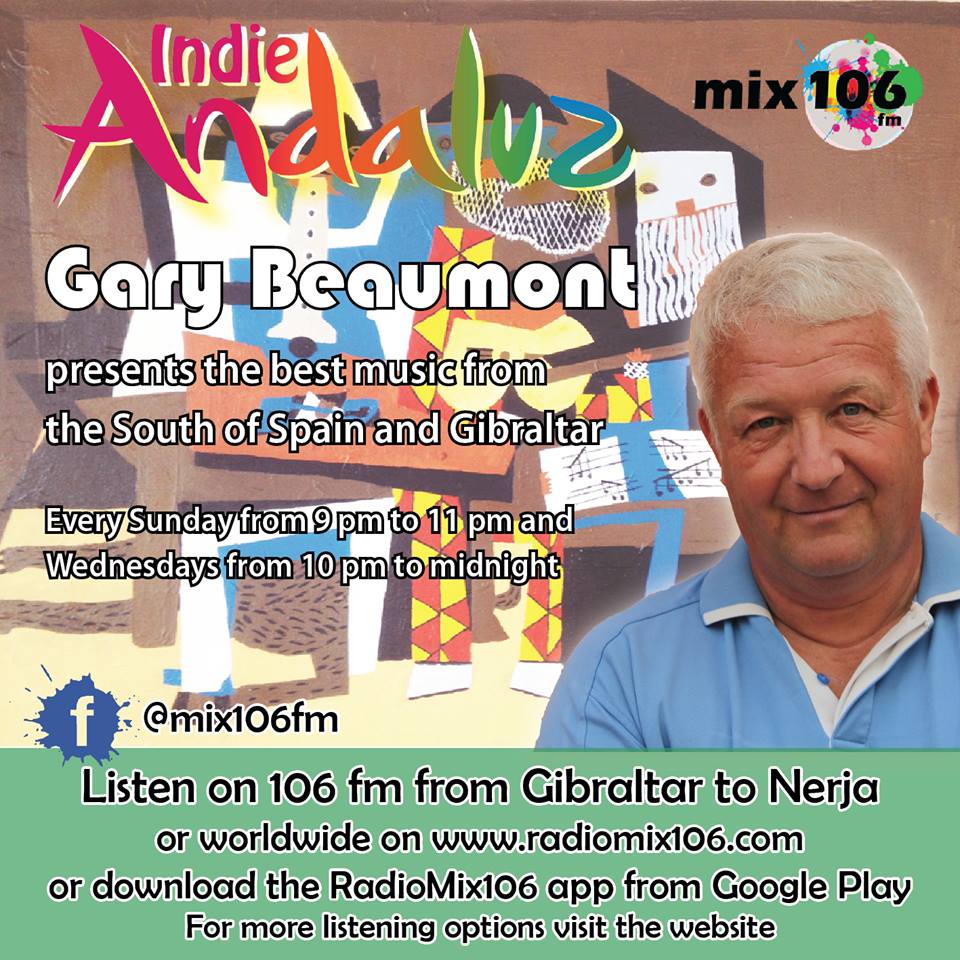 Welcome to the show notes for the 1st edition of Indie Andaluz first broadcast on Sunday 25 March, 2018 on Radio Mix 106 fm.
If you missed the show you can listen again on Mix Reloaded
The show kicked off with Rave de Dios from the Seville band Pony Bravo. Formed back in 2006 I caught this band at the Ojeando Indie Music Festival in Ojen near Marbella a few years back.
1 – Pony Bravo – Rave de Dios
Website https://servuclean.com/about-us/guarantee/

Staying in Seville the next track is from the funk rock band O'Funk'illo. A great band, they are currently on tour and just recently played Louie Louie's in Estepona. This is Rulando from their 2005 album 'No te cabe Na'
2 – O'Funk'Illo – Rulando
Website

For our UK listeners you might be pleased to know that O'Funk'Illo will be playing The Boston Music Room in London on the 4th of April as part of the Eñe Spanish Festival.
Moving to the Costa del Sol and the town of Estepona which despite its modest size has thrown up some great bands and artists. The next three tracks are all from Esteponeros beginning with the popular punk pop trio Airbag and Ensamble Cohetes the title track from the band's 2003 album.
3 – Airbag – Ensamble Cohetes
Website
Staying in Estepona this next track is from Black Horse, the solo project by Juanma Medina, well known by many as the frontman for the rock band The Tragic Company.
This track is his latest single 'A Thousand Sorries' which is available as a free download on his Bandcamp page. .
4 – Black Horse – A Thousand Sorries
Bandcamp
Any show featuring Andalucian music cannot ignore the huge flamenco heritage which also permeates much of the region's music of all types.
One of the major exponents of flamenco is the young guitarist from Estepona Daniel Casares who can be seen performing one week in the local theatre and the next on stage in flamenco festivals in New York or London.
This track is a tribute to the picturesque Plaza de las Flores in Estepona.
5 – Daniel Casares – Plaza de las Flores
www.danielcasares.com
Our third Estepona artist are the experimental rock band Oh! Trikelians. This band was founded back in 2008 and have enjoyed critical success through a number of album releases including 'Todo es Automático' released on March the 18th, 2013, from which the next track 'Dirección equivocada' is taken.
6 – Oh, Trikelians – Dirección equivocada
Bandcamp
At the beginning of the show I mentioned the Ojeando Music Festival a celebration of Indie music primarily from the South of Spain and which is held every summer. This year the festival will be held on Friday the 13th and Saturday the 14th of July.
This next track is from another band I first saw at the Ojeando festival, a mod band from Marbella called Briatore who blend together ska, new wave and a touch of soul. This number 'Short Beat A' is off of their 2010 debut album 'A Way of Life'.
7. Briatore – Short Beat A
Facebook
This next band comprises three musicians who have come up through a number of great bands including Módo Bélica, Negroazulado, and Fila India before joining forces to form Ballena performing a fusion of classic pop and indie rock.
8. Ballena – Aerobic Cristal
Facebook
If you enjoyed that Ballena will be performing at the Malaga Arts Festival on the 12th of April and at the En Orbita festival in Granada on the12th of May.
One of the Coast's busiest musicians must be singer Denyse Sanchez. If not doing a Freddie with the tribute act Queen of Magic, or fronting the 80's covers band Denyse's Boombox then you can catch him in full spandex with his hair metal outfit Denyse y Los Histericos. This track Calles de Fuego is from their 2012 album Denyse y los Histericos
9. Denyse y los Histericos – Calles de Fuego
Website
By the way, did I mention the Ojeando Festival? Yeah I guess I did, and it will come up a few times over the coming weeks and months as it is an important event on the local music scene especially for breaking new bands through the Ojeando New Talents contest. The next track is from an experimental synth pop female duo from Malaga called Dreyma who will performing at this year's Ojeando. This is Rym from their self-titled EP released in September last year.
10. Dreyma – Rym
Bandcamp
Next on the show are the ever popular Dry Martina a Malaga band whose blend of jazz, pop, swing, rock'n'roll, and rocksteady has been given the title 'Retropop' by the band themselves. This number is Quien Sabe off of their 2012 album 'Momento Perfecto'.
11. Dry Martina – Quien Sabe
Website
Once again sticking with the Malaga scene we have a track from Full Colour Panda's debut EP recorded last year at Malaga's Green Cross Studio, this is Breakout.
12. Full Colour Panda – Breakout
Facebook
Another band mashing up the genres is Jammin Dose whose blend of funk, rock, reggae and soul leaves them just as comfortable covering Beyonce or the Prodigy, whilst creating a great repertoire of their own original tracks such this next number Looking for Madness
13. Jammin Dose – Looking For Madness
Website
A great example of how bands in Andalucia can fuse together multiple musical styles into their sound without it sounding cobbled together is Futu Matano, weaving rock, funk, rap, reggae and hip hop along with a liberal splash of flamenco. This is a Mare from the band's self titled debut album.
14. Futu Matano – Mare (radio edit)
Website
And now to take a short trek over the frontier into Gibraltar, a location that punches well above its weight musically despite its relatively small population of 30,000 inhabitants.
The scene in Gibraltar revolves around a number of music bars and of course the legendary Rock on the Rock club. Talking of the Rock on the Rock, this will be the venue for this year's Battle of the Bands with the first heat taking place on April the 20th, and featuring the bands The Tragic Company from Estepona, Medictum from Seville and this next band Crimson Clover from Gibraltar. Here is their latest single Line of Sight.
15. Crimson Clover – Line of Sight
Bandcamp
The second of our Gibraltar bands tonight is Jetstream who describe themselves on
their website as the brightest emerging talent on the unsigned music circuit. This five piece indie band have established themselves as the best live act in Southern Europe having cut their chops performing in Spain, Gibraltar & Portugal. Well I can't argue with that so I'll let you judge for yourself here's Jetstream and Chinatown
16. Jetstream – Chinatown
Website
And our final act from the Rock is Sista Dee one of the leading lights in Gibraltar's vibrant reggae scene. Often penning songs with strong political and social comment, this track is more lighthearted and a great chiringuito choon.
17. Sista Dee and The Wise Up Crew – Zung Zeng
Website
Crossing back into Spain but sticking with the reggae vibe this next group have really carved out a big spot for themselves in the Spanish reggae scene, and will be on the bill at most self respecting reggae festivals and are already on the lineup at this summer's Rototom Sunsplash taster at the Castle in Fuengirola this July.
This track is from their 2014 album 'Olas de Cambio' and is titled Alude
18. Malaka Youth – Alude
Bandcamp
This next band, La Selva Sur is from Seville and is another one that draws on a wide range of genres such as swing, reggae, ska, Balkan folk melodies along with the sounds of Africa and South America, to create their own unique sound.
This track 'Swing de los Kamastras' is from their 2010 opus 'La Gran Orquesta Kamastrónica De La Zanfoña Galáctica' which wins the prize for the longest album title on tonight's show.
19. La Selva Sur – Swing de los kamastras
Website
Okay so it's been at least an hour since I mentioned the Ojeando Music Festival! This next band Lori Meyers, a veteran Indie rock band from the village of Lorca in Granada, will be headlining this year's festival. So here's a taster of what to expect this is Alta Fidelidad from the band's 2008 album Cronolanea
20. Lori Meyers – Alta Fidelidad
Website
Seville band Los News are a good old fashioned garage rock band fronted by lead singer and guitarist Quinten Gas. This track is 'The Best Day of My Life' is off of their 2012 album 'Automedicacion' which is available as a free download on their Band Camp page.
21. Los News – The Best Day of My Life
Bandcamp
In the first half of the show I mentioned the Malaga Arts Festival which started this weekend and concludes on April 12th with a concert of which this next band will be a part. MAGA are an Indie band from Seville and this track Diecinueve is from their 15th anniversary album and features Iván Ferreiro on lead vocals.
22. MAGA – Diecinueve
Facebook
Hailing from Granada gypsy rockers Sonido Vegetal do what so many Andalucian bands do which is to fuse together rock, ska, reggae, punk and a pinch of flamenco to create their own original sound. La Mar Se Lo Llevo is the opening track off of their 2013 album Las Bases del Razonimiento.
23. Sonido Vegetal – La Mar Se Lo Llevo
Website
Next up are a group of lads from Sotogrande all of whom have been involved in bands since they were kids. I first came across them years ago performing in Sabinillas as Urban Ground if my memory serves me right and since then we had them perform at the very first Battle of the Bands in Sotogrande in 2012 under the name 'Catastrophe Owls'. It's always great to see young talent develop and nowadays they are performing as Jacver.
24. Jacver – Well I'm Glad You're Doing Fine Without Me
Facebook
To demonstrate just how far these lads have come, they are currently in the final 30 bands with the chance to perform at FIB Festival in Benicassim, basically Spain's Glastonbury. To vote for Jacver visit Proyecto Demo 18Â scroll down the list to 'Jacver', tick the box, then click on 'Enviar', simple!
To finish off tonight's show I'd like to leave you with that force of nature that is Trashtucada an ensemble from Seville that fuse together ska, reggae, rock, funk and a touch of mariachi trumpet!
25. Trashtucada – KO Boeing 747
Facebook
Don't forget to 'Like' our Facebook page and join our Group You can also contact us by email at studio@radiomix106.com.
---
Reader's opinions
---