Radio Mix 3 – Mix Unchained
Written by Gary Beaumont on October 22, 2018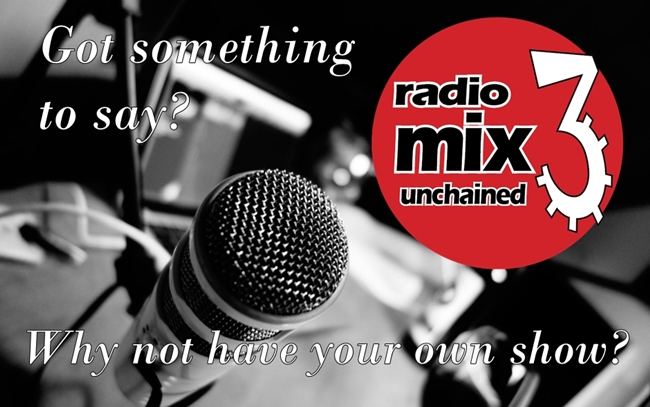 As part of the Radio Mix expansion into online broadcasting the station will be adding a number of new channels to our schedules one of which will be Radio Mix 3 – Mix Unchained.
Mix Unchained will be inviting people to submit proposals for programmes that they would like to put together and present, the programmes could be on any subject or genre – talk show or music, it could be 'Hit Mongolian Throat Songs of the Nineties', or 'Llama Breeding in the Andes', whatever you like as long as you have a passion for it.
We can provide the recording facilities at our studios, training and advice as to how to put together an interesting show, or if you have your own facilities even better.
You can do a one off show or a monthly, weekly or even daily show depending on what you can commit to.
Programmes will be broadcast on our Mix 3 live stream schedule, due to be launched in January, after which they will added to our listen on-demand service 'Mix Reloaded'.
Both the live stream and Mix Reloaded are available to a global audience and we will promote all shows through our website and the appropriate social media.
We are not looking for Sixties Hits, Golden Eighties, or any of the ten-a-penny generic syndicated type shows, but are looking to cover a wide and varied spectrum of interests.
If you are interested, or would like to know more, contact studio@radiomix106.com
---
Reader's opinions
---