Wyclef Jean and Inner Circle are latest additions to Weekend Beach Festival lineup
Written by Gary Beaumont on March 2, 2018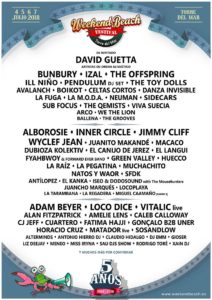 The rapper Wyclef Jean is the latest artist confirmed for this year's Weekend Beach Festival in Torre del Mar, Malaga in July. Probably best known for being one third of New York Hip Hop group The Fugees, he is also joined on the bill by the legendary reggae band Inner Circle.
Wyclef Jean has recently released a new album "Carnival III: The Fall and Rise of a Refugee", a release that coincides with the 20th anniversary of the critically acclaimed artist's debut album, The Carnival. Known for being a musician but also an actor, producer and politician, the Haitian rapper has worked successfully with artists such as Shakira, Celia Cruz, Eric Clapton, Cypress Hill, Santana and many others.
Inner Circle, the historic Jamaican reggae band celebrate their 50th Anniversary and celebrate it on the shores of the Mediterranean in the Torreño festival. The quintet, which has a successful Grammy, is one of the most respected reggae groups with a long history of success dating back to the mid 70's.
They join a packed roster of over 90 international, national, and local acts at the fifth edition of the Weekend Beach Festival to be held from 4 to 7 July. The lineup includes:
Alan Fitzpatrick, Amelie Lens, Matador, Gonçalo B2B Uner, Sosandlow,  Alterminds, David Guetta,bunbury, the Offspring, Jimmy Cliff, Wyclef Jean, Inner Circle, Alborosie, Izal, Adam Beyer, Loco Dice, Macaco, Caleb Calloway, Ill Niño, The Qemists, Vitalic Live, El Langui, La Raíz, La Pegatina, Sfdk, The Toy Dolls, La M.O.D.A., Juanito Makandé, El Canijo De Jerez, Juancho Marqués, Pendulum Dj Set, Subfocus, Sidecars, Boikot, Fatima Hajji, Natos Y Waor, Avalanch, Muchachito, Celtas Cortos, Fyahbwoy & Forward Ever Band, Danza Invisible, We the Lion, La Fuga, Neuman, Green Valley, Viva Suecia, Huecco, El Kanka, Antílopez, Horacio Cruz, Locoplaya, La Tarambana, Arco, Ballena, Iseo & Dodosound With the Mousehunters, Meneo,cuartero,la Regadera, Claudio Hidalgo, Dj Emm, Miss Yrina, Antonio Herrero Dj, Lizz Deejay, Xain Dj, the Grooves, Gioser, and many more.
---
Reader's opinions
---